PASSENGERS OF THE HILDA
Boarded in Southampton, they were 103 among them dozens of "Johnnies", those britton onion sellers who every autumn, were traveling to England to sell their crop.
The other passengers were mainly British, most of them living in Dinard, a fashionable seaside resort at the beginning of that century. On behalf of these people, the city of Dinard was to become one of the most charming places of the Belle Epoque.
Some names are now linked to a specific page concerning this person. Should you wish to add more information or have a page created for such an ancestor, please contact me.
Isabel CAVENDISH-BUTLER, 33
Alice, Mary DENHAM, governess, 17
Helen Vivienne ECKFORD, housewife, 24, from St-Servan
Lt. Colonel Spencer, Walpole FOLLETT from Dinard, 50
Laura GAISFORD from Dinard, 39
George A. GRINDLE, Shipyard engineer, from Dinard, 46
Miss JACKSON, governess
Guillaume KERBRAT from Plouezoc'h, skipper of yacht Lohengrin
Mrs KIRBY from St-Servan
Léonie LE CUZIAT, from St-Brieuc, 22
Marie-Louise LEROUX, from St-Servan
Mary LINKLATER, nurse, 37
Mary MILES, governess, 19
Elizabeth MONTIER-HUTCHINSON, from Dinard, 75
Major Augustus PRICE, from London, 51
Mrs PRICE, his wife
Mary ROOKE, from Scotland, 26, and her two children
Edmond ROOKE, 7
Joyce ROOKE, 5
Louis ROPERT, french student at St Brieuc, 17
Thomas STANLEY, Clergyman, 71
Catherine STANLEY, his wife, 60 and their two daughters
Mildred STANLEY
Norah STANLEY
John, William SYKES, Lawyer from London, 65
Jessie, Elisa VASS, governess, from Ayr, Scotland, 35
Herbert, Arthur WELLESLEY

, from Nazeing,

38
Mrs Charlotte WELLESLEY, his wife, 32
| | | |
| --- | --- | --- |
| Laura GAISFORD | Thomas STANLEY | Catherine STANLEY |
Steerage Passengers (all Johnnies)
François ABHAMON, from Cléder, 34
Claude BECHU, from Cléder, 19
Jean BECHU, from Cléder,15
Paul Marie BLOCH, from Cléder, 17
Yves BOTHOREL, from Plouescat, 28
Jean Marie BOTHOREL from La Feuillée, 28
Yves BROCHEC, from Plouescat, 40
Jean Marie CALARNOU, company leader from Cléder, 35
Hervé CALARNOU his son, from Cléder, 16
Jean Marie CALARNOU, his son, from Cléder, 12
Joseph CABIOCH from Roscoff
Yves CADIOU, from Plougoulm, 26
Jean Marie CAROFF, from Roscoff, 55
Louis COLAS, from Plouescat, 25
Jean CREAC'H, from Plougoulm, 20
Jean Marie CREAC'H, from Plougoulm, 17
François CREIGNOU, from Roscoff, 25
Yves GOASDOUE from Plougoulm
Jean Marie GOASDOUE from Treflaouenan
François GOAVEC, from Treflez, 29
Olivier GUILLERMOU, from Plougoulm, 45
François GUIVARC'H, from Tréflez
Jean Marie GUIVARC'H, from Cléder, 32
Claude HERRY, from Plougoulm
François IRRIEN, from Cléder, 23
Jean Marie IRRIEN, from Cléder, 27
Jean Baptiste JAOUEN, from Plouescat, 18
Paul JAOUEN, company leader from Plouescat, 24
Eugène KERBIRIOU, from Roscoff, 13
Jean KERBIRIOU, from Roscoff, 17
François KERMOAL, from Plouescat, 28
Hervé LE BIHAN, from Cléder, 30
Jacques LE BIHAN, from Sibiril, 26
Jean Marie LE BIHAN, from Cléder, 30
René LE BIHAN, from Cléder, 24
Charles LE GOFF, from Plouescat, 17
Louis LE GOFF, from Plougoulm, 19
Maurice LE SAINT from Plouescat
Jean François LE SANN from Plouenan
Yves LE SANN from Plouescat
Louis LE SAOUT from Sibiril
Jean-François LE VELLY, from Cléder, 27
Paul Yvon LE VELLY, from Cléder, 17
Yves-Marie LE GUEN, from Cléder, 19
Paul-Marie LESQUIN, from Cléder, 22
Jean Louis MONTFORT, from Cléder, 27
Jean Marie MONTFORT, from Cléder, 18
Yves Marie OLIVIER, from Sibiril, 24
Claude OLLIVIER from Cléder
Jean OLLIVIER from Cléder
François PENDU, from Plougoulm, 21
Jean-Marie PENDUFF, from Plougoulm, 26
Jean Marie PERON, from Sibiril, 29
Guillaume PICHON, from Roscoff, 27
Jean François PICHON, from Roscoff, 31
Léon PICHON, from Roscoff, Company leader
François POSTEC from Sibiril
Jean-Marie POSTEC, from Cléder , 30
Jean Marie PAUGAM, from La Feuillée, 20
Louis-Marie QUIVIGER, from Cléder, Company leader, 32
Tanguy SENANT, from Plouescat, 24
Jean-Marie SIMON, from Roscoff, 24
Yves SIMON, from Roscoff, 20
Louis TANGUY, from Sibiril, Company leader, 62 and 3 sons
Guillaume TANGUY, from Sibiril,25
Claude TANGUY, from Sibiril, 18
François TANGUY, from Sibiril, 14
Jacques TOULLEC, from Cléder, 36
Guillaume TONNARD from Roscoff
Jacques VELLY, from Cléder, 20
Jean-René VELLY, from Cléder, 17
Yves VELLY, from Cléder, 26
Olivier CAROFF, 22, from Roscoff
Tanguy LAOT, from Cléder
Jean Louis MOUSTER, 22, from La Feuillée
Paul-Marie PEN, 22, from Cléder
Louis ROZEC, 30, from Plouzévédé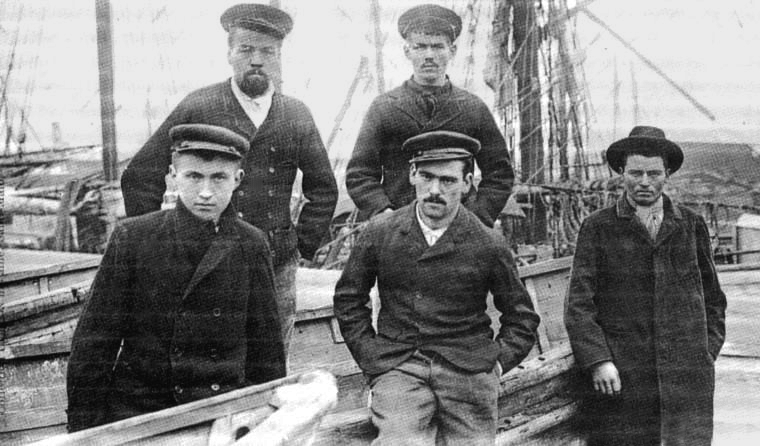 from top and left to right Paul PEN, Olivier CAROFF
Louis ROZEC, Tanguy LAOT, Jean Louis MOUSTER