Weather conditions as recorded in the archives of Météo France are poorly documented compared to what could be found nowadays. We have a better view through this pressure chart computed by the Weather Center of Karlsruhe.
However, we can notice a low pressure area centered on the spanish peninsula and high pressures over Central Europe which bring cold weather with easterly wind freshening over the Channel and the Atlantic. Temperatures are decreasing in all areas with -3°C at sunrise in Paris.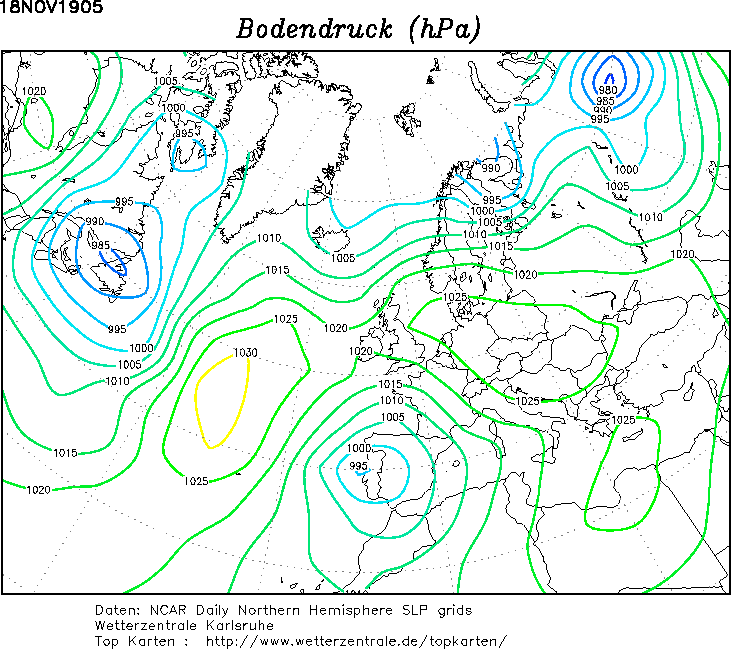 Observation Nov. 18, 6 p.m.
Cherbourg : Wind E force 6 - Rough sea - Overcast - Temperature 5°C - Barometer 1013 HPa
La Hague : Wind E force 6 - Rough sea - Showers - 5° - 1012 HPa
Brest : Wind ENE force 3 - Smooth sea - Overcast - 3° - 1004 HPa
Observation Nov. 19, 8 a.m.
Cherbourg : Wind E force 7 - Heavy sea - Overcast - 5° - 1003 HPa
La Hague : Wind ENE force 8 - Very heavy sea- Overcast - 5° - 1003 HPa
Brest : Wind ENE force 3 - Choppy sea - Rain - 4° - 1000 HPa